The Little Breton Bistro by Nina George
When 60-year-old Marianne Messmann is visiting Paris on vacation with her husband, she decides to commit suicide by jumping off the Pont Neuf bridge. Her failed attempt leads her to let her husband go back to Germany on his own and search out the Breton town of Kerdruc. Why Kerdruc? Only because it looked so lovely on a painted tile she found while in the hospital, so why not. What she finds there is far more than she bargained for.
I truly appreciate a coming-of-age story that involves someone my age, rather than a young person. These types of stories remind us that finding ourselves is not related to age or chronology, and that no matter how old or young we are, there is always something new we can learn about ourselves. This is the biggest reason I wanted to read this book, but also because I found George's previous novel, The Little Paris Bookshop, to be so charming and fun. That's was a good enough reason to pick this novel up, if you ask me, but I'm afraid that although I loved the premise, and enjoy George's writing, I was a touch disappointed with this book, and liked it less than I did her previous novel.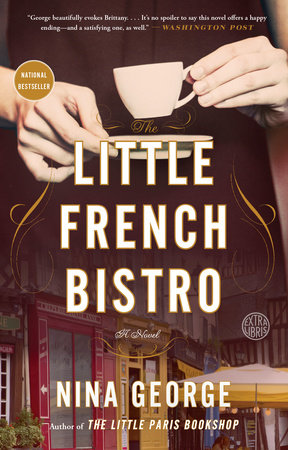 Abacus Press released "The Little Breton Bistro" (also known as "The Little French Bistro") by Nina George in 2017. This book is available from Amazon, Barnes & Noble, Kobo Books, Kobo audio books, eBooks, iTunes (iBook or audiobook), The Book Depository (free worldwide delivery), new or used from Alibris or Better World Books (where your purchase supports world literacy) as well as from an IndieBound store near you.