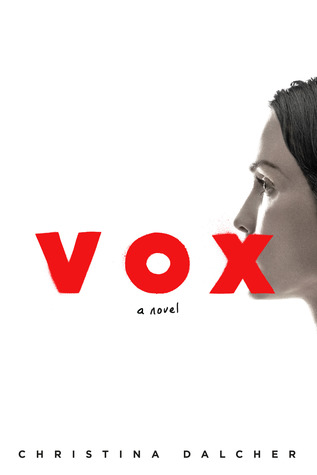 Vox: A Novel by Christina Dalcher.
This novel is set in the not too distant future, where institutional misogyny has reached such heights that women are now totally out of the workforce and females are only allowed to speak 100 words a day (and no cheating with sign language, either). The new government has put wristbands that count every female's words and if they go above their allotment, they get an electric shock that gets worse the more they speak. In this world we find Jean, a former scientist who was on the brink of curing aphasia, who is now relegated to her home, where she lives with her husband, three sons and her young daughter. However, when the president's brother is in a skiing accident, with a brain injury that gives him the exact type of aphasia Jean had been trying to cure, the government calls on her to rejoin her old team and finish the job. But all is not what it seems in this dictatorial, woman hating world. (

Thanks for the free book, @PRHGlobal/@prhinternational

)
Berkeley, an imprint of Penguin Random House, released "Vox: A Novel" by Christina Dalcher on August 15, 2018. This book is available from Amazon, Barnes & Noble, Kobo eBooks, Kobo audio books, eBooks, iTunes (iBook or audiobook), The Book Depository (free worldwide delivery), new or used from Alibris or Better World Books as well as from an IndieBound store near you. Thanks for the free book, @PRHGlobal/@prhinternational, and for sending me the ARC of this novel via NetGalley in exchange for a fair review.